Stage Racing is fun and challenging.  For some it can be one of the most rewarding events they'll ever do.  There are a number of stages races with different characteristics including  Breck Epic, Pisgah Stage Race, Moab Rocks, Trans-Sylvania Epic (TSE) Leadville MTB Stage Race, BC Bike Race, Single Track 6, Trans Andes Challenge.  While some of these races have long grinding high elevation stages, some are shorter with lots of technical demanding single track.   No matter which event you are planning you'll want to follow  the MTB stage race strategy to get the most out of your body and race.
Prepare
P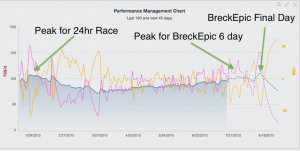 reparation is critical  to getting through a stage race.  Everyone racing is going to suffer, but starting under prepared the level of suffering is going to be much higher and less manageable, maybe not even fun. Depending on the length and terrain your skills and fitness needs will vary.  Your training should start at least six months prior to the event.  Check out our MTB Stage Race training plans.
There are a number of things to consider in your preparation
Skills – For a single track heavy or technical course work on your handling skills.   Get out on the trail, building your fitness mostly on the road or gravel isn't going to help you bomb down hills, zig-zag through trees and maneuver rock sections.
Build your TSS – A 6 day stage race like Breck Epic is hard and long.  I've seen TSS of 200 and higher each day.  That's around 1200 for the week.  Most people don't get a enough time to build that much TSS in training.  Over the six month period it's important to build up your weekly TSS.
Mock Stage Race – In your training plan include a mock stage race.  During this mock stage race, practice your pre/during/post ride fueling.  Include training sessions that include the terrain and trail types you'll be racing on.    Because you'll probably have all your other commitments like family, work etc.  It will be difficult to do the same time and intensity of the race.  Instead reduce the time and effort of each session.
Start the race recovered.  The week or two before the race keep the volume low.  Take some extra days off.  Use the time to get your plan in place for travel and equipments etc.  Your TSB should be positive.
There is no better training for a race then racing.   Racing will build some fitness, but will get your body used to the demands you can't get in training.   Practice your fueling and gear choices.
Pacing
You'll want to be mindful of your pace.  I recommending limiting your time in of the zone 5.  Some short spikes are ok, but the more time you put in zone 5 or higher the more matches you are burning.  Save your matches for when you really need them.   Zone 2 and Zone 3 are safe zones to get through a stage race, but you won't be fast.  If you are looking for speed you'll want to be in zone 3-4 and be able to burst into and above zone 5.  This means you'll need to put the training in to allow for the demands of high intensity racing over many days.
Race Fueling
Another MTB stage race strategy includes your daily racing fuel.  A pre-race meal that is quick to digest and provides the right amount of fuel will make for much better race.  Combined with good fueling during the race, you should be able to have enough energy day after day.
For your pre-race meal we recommend the Apex Nutrition Pre-Training Smoothie. You can customize the ingredients to your liking and include add-ons for additional hrs you expect to be racing.  It digests fast, so you don't need to wake up early to get a big meal in.  Consume 1-1.5hrs before the start of the event.
For race fuel you need extra calories in the form of Carbohydrates.  The extra fuel helps keep the glucose levels up throughout the race.  After working with Apex Nutrition Kelli recommended adding about 20% more carbohydrates to the race fuel.  This can be in liquid form or solids.  Kelli also recommended including 5000mg of l-glutamine to liquid fuel to reduce muscle ache and support recovery.
Recovery
If there is one thing to focus on during the race that would be recovery.   How fast you can recover between the finish of the last stage and start of the next stage is critical.  The faster you get through the race the sooner you can start your recovery.  The longer you are out on the trail the more stress you build and the more recovery you'll need.
Recovery techniques may include:
Rest and sleep are critical to recovery.  You'll want at least 8hrs sleep between stages and a nap post stage.
Massage using a foam roller and/or using a masseuse or compression boots such as Elevated Legs will clear the waste out of you legs and make the fresh for the next stage.
Keep up on pre and post race Hydration and electrolytes.  Dehydration can reduce performance and impact recovery.  We suggest keeping up with your normal hydration practice of 90-100oz of water a day  and 1-2 electrolytes tab products from Hammer, Nuun, Gu or others.
Recovery Fuel

A post recovery drink like an Apex Nutrition Smoothie, or Infinite Nutrition Repair.  Add 5000mg l-glutamine to the smoothie or repair.  Consume within 30min of the stage finish.
1 serving of beet juice Pre or Post race will help carry more oxygen to the muscles promote faster recovery.
Lean protein in a Lunch and Dinner
Replace glucose with good carbs such as sweet potato, rice, grains and fruit and vegetables
Reduce inflammation by avoiding  gluten, dairy, sugar sugar products
Rest after the event
Before lining up for your next event you'll want to take some time off the bike.  A stage race accumulates a great deal of stress to the body, both mental and physical.  We recommend 1 week total rest before light training can start again and at least three weeks before entering a race.
MTBCoach offers coaching to guide you through your first stage race, or get your personal best.  Checkout out our coaching services for the package that fits your budget and needs.